Data loss is something that no business wants to experience, but with the right backup and recovery procedures in place, you can greatly reduce the risk of data being lost. So, what is data backup and recovery, and how can you benefit from it? Read on to find out more.
Secure And Compliant
An important aspect of data backup and recovery is keeping data secure. As your company grows, there will be increased threats to your security, which could lead to breaches and your data being encrypted or deleted. By opting for a backup and recovery solution, you eliminate the risk of your data being held for ransom. Backup services will also ensure that you are maintaining compliance with GDPR laws. There are fines of up to £17.5 million for not complying with GDPR, so this is crucial.
Replication  
Another benefit of data backup and recovery services is replication, which is when data is stored at multiple sites across a network. In case of a technical glitch, malware, hardware failure, or another type of disruption, this means your data can still be accessed from a different site. This enhances the reliability and resilience of your systems, allowing you to restore data quickly and avoid costly downtime for your business.
Easy Management
Data recovery can be a time-consuming process, and it often leads to complications if it's not managed in one place. With an effective backup program rolled out across your company, the process will be quick, effortless, and secure. Furthermore, it means that you won't have employees backing up their own devices inconsistently and irregularly, creating a better, more user-friendly and secure experience. 
Maintain Productivity
There is always a concern that manually backing up data through the use of backup tapes, hard drives, and USBs will cause an increase in downtime due to the resources and staff this takes. However, this can be avoided with an expert IT service provider that can assist you with efficient data backup and recovery solutions. This is an option that provides you with the utmost ease and which will give you peace of mind.  
What To Do Next
If you think you could benefit from any of these advantages, then Vantage IT can help you. We are an experienced provider of IT data backup and recovery services such as DataSafe Online Backup and Ontrack data recovery. Contact Vantage to back up your data, reducing the likelihood of needing a data recovery service.  But if you do, a data recovery evaluation service is available to determine the prospect of your data being recovered. So, to keep your data safe, remember to back up!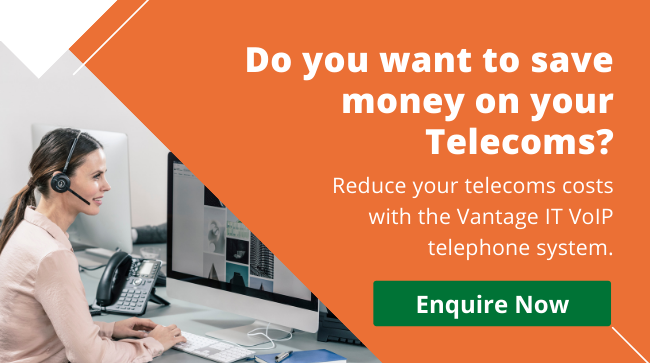 Image Source: Canva