If you are in High Wycombe and need local outsourced IT support, then you've come to the right place!
Vantage IT has been based near High Wycombe for nearly 30 years and provides the IT services you need. As a result of using Vantage IT as your source for IT solutions, you will receive many benefits, including:

Great location – we are close to High Wycombe, therefore enabling us to offer you and your colleagues the personal service you require.
Experience and skill – take advantage of our engineers' vast knowledge and multiple skill-sets, helping to drive your business forward.
Control costs – IT doesn't need to be expensive. With our assistance, you can deploy the right equipment, at the right price and have it skilfully supported.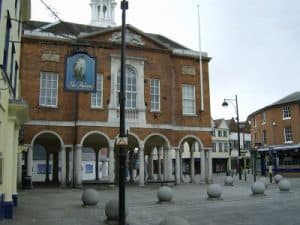 IT Support in High Wycombe from Vantage IT
High Wycombe is approximately 45 minutes from Vantage IT. Consequently, our close proximity allows us to rapidly provide onsite support. It is one of the largest towns in the area and continues to expand to incorporate nearby smaller towns.

Although High Wycombe was an old market town with a history of furniture production, it has developed greatly and incorporates growing industrial areas. On the east side of the town is Adams Park football ground, home to Wycombe Wanderers Football Club.

Vantage IT can be the reliable IT provider you need, offering dependable IT support and expert advice. In addition, we supply and install high quality new equipment. With just one company to contact, it is therefore quick and easy to use Vantage IT for your network support services.

"Reassuring to know you have the Vantage shield around us!" ― John Fell

Due to the outsourced managed IT support service we provide, Vantage IT protects customers with our knowledge and expertise.

Working with many world-renown partners, such as Microsoft and HP, you can expect the very best service and knowledge of these products. A full list of the world-class companies working with Vantage IT can be found on our Partners page.

More Details and Free IT Audit
To discover the current state of your IT, we will be happy to provide a free IT audit.

To find out how Vantage IT is able to help you and provide IT support in High Wycombe, please contact us now. You can call us on 01296 668966 or complete the contact form on this page.

IT outsourcing from Vantage IT will finally be the answer you have been looking for.