For SMEs, the right IT infrastructure, services, and strategy are key to success. After all, IT solutions underpin every element of organisations today – from internal corporate services to e-commerce. But for most SMEs, it simply doesn't make sense to try to resource a full in-house IT team. To access the necessary IT services, an outsourced IT solutions provider is an excellent route to buying-in flexible, scalable, and expert IT support.
But how can the best IT providers in your area support your business? Here are some of the main ways they can add value to your bottom line:
    1. Efficiency
The best IT providers offer ready-made IT and telephony solutions designed to meet small business needs. By having ready-made packages of IT services and solutions, delivered and managed by experts in the field, businesses can immediately move ahead with what they need, rather than wasting time resolving common issues.
    2. The Latest IT Systems And Services
A good local IT solutions provider will also offer access to innovative technologies that can take your business forward. For example, if your business isn't yet using VoIP telephone technology, then this can be recommended as a ready and easy way to improve customer relationships, cut operating costs, and improve efficiency – and it's easy for a managed IT services provider such as Vantage IT to install.
    3. Expertise
By outsourcing your IT support to a reliable IT managed services provider, you have the peace of mind that comes with getting the experts involved. Acting as a trusted partner, your IT provider will assess your business needs, make recommendations, and deliver what you want – while you focus on running your business operation.
    4. Cost-Efficiency
Full-time in-house staff are expensive to hire, train, and maintain. But outsourced services are cost-effective, dependable, and inherently flexible. You simply buy in the service you need on a flexible contract basis that matches your business requirements – no overheads required.
    5. Scalability
By choosing an outsourced IT provider you instantly gain access to modern cloud-deployed services in addition to on-premises solutions that are tailored to your objectives – and that can scale up with your business or adjust to changing contractual needs. This rapid scalability helps your business to be as agile, responsive, and as efficient as possible.
    6. Customer Satisfaction
Customer satisfaction is key to modern business success and the right IT systems underpin this success by facilitating everything from communication to e-commerce and delivery logistics. A managed IT service can ensure you are using the latest and best technologies to build your market position and grow your success.
Find Out More
Vantage IT delivers resilient, reliable, and cutting-edge IT and telephony systems to SMEs across all industries. With tailored, scalable packages, excellent management, and a superb track record, we are here to support your business's success. Please get in touch today to find out more.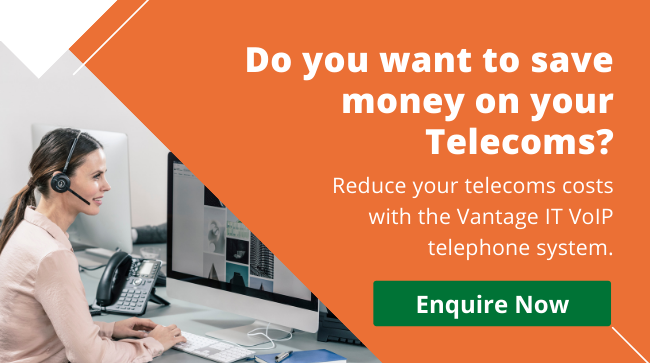 Image source: Pixabay