Vantage IT sponsors a guide dog through The Guide Dogs for the Blind Association.
The tremendous work of the association in training guide dogs is something close to our hearts. A guide dog makes a massive difference to people with sight loss, assisting with their everyday lives and becoming loved pets. Having the independence to walk about town is something most of us take for granted. The work of the association enables blind or partially sighted people to achieve this.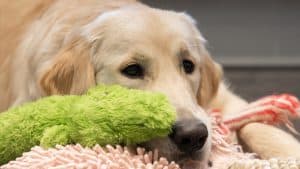 If you ever meet a guide dog, you will appreciate the enormous difference they make and enjoy their fantastic personalities. To achieve the levels required to become a fully fledged guide, a lot of training is needed. This requires time and money.

Vantage IT is sponsoring Bailey, the second dog we have supported. Buddy, our original puppy has now qualified to become a fully trained guide for a delighted owner.

What Can a Guide Dog and The Association do to Help?
If you are blind or partially sighted, then The Guide Dogs for the Blind Association can help with either a dog or another form or mobility service. The association started in 1931 and has now become the world's largest breeder and trainer of working dogs. Their work has enabled them to help over 29,000 people to achieve life-changing independence.

There are now more than 4,950 guide dog owners in the UK. If you are blind or partially sighted, then this can change your life.

We will provide updates on the progress of Bailey so you can see how he is developing into a successful guide. More information about The Guide Dogs for the Blind Association and the wonderful work they do can be found here.

If you require any more details about Vantage IT and our sponsorship, please contact us.