Earlier this year Vantage moved in to purpose designed and built offices. The move gave us the opportunity to design the new offices to give us the ideal working environment for many years to come.
As the number of services we provide has expanded – our outsourced IT support, email filtering and online backup have been supplemented with patch management and more recently a software development venture – we required additional space for staff and equipment. We now have more office space allowing people the ability to work more effectively and in greater comfort.
The office move was exceptionally well managed and took place over a weekend. All hands were on deck to move numerous servers, equipment racks, network equipment and PCs. Many customers rely on our servers being operational to provide services such as on-line backup, email filtering and IT support, so it was crucial that equipment was out of action for the shortest possible time. When moving offices, the key is always in the planning. With everything well planned, the actual move went like clockwork which meant the services we provide had only a minimal downtime and customers were not inconvenienced. Indeed, no customers actually noticed we had moved!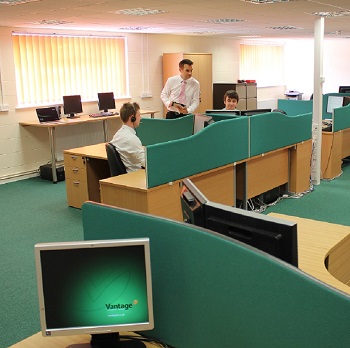 The new facility uses modern insulation technologies to provide an environment that is warm in the winter and cool in the summer, greatly reducing the energy used to provide heating and cooling. We have also made a commitment to reduce power consumption wherever possible and have dedicated recycling facilities, giving Vantage a smaller environmental footprint.
The services we provide are critical to enabling our customers' businesses to run smoothly. We therefore have a generator capable of providing power to the entire company, so in the event of power failure, day or night, the generator starts within seconds so all our staff and systems can continue to work as normal. Our facilities are protected with 24 hour manned security and fire detection and control, further emphasising the seriousness with which we place on the services we provide.
We would be delighted if you would like to visit our new office to see the building, talk to our staff and find out what we have to offer. If you are interested in IT support, on-line backup or software development, we would be happy to discuss how we could help you and your organisation.
One of the services we offer is IT relocation assistance when companies are moving office. We have provided this service to customers and now to ourselves, so we know just how successful it is! More details about the Vantage Office Relocation service can be found here.