Dramatically reduce your telecoms costs using the latest technology with the Vantage Telephone System.
If you are still struggling with a telephone system using old-fashioned landlines, you need to switch to a Vantage Telephone System. We utilise state-of-the-art VoIP technology to provide you with modern telephones that above all, will save you money!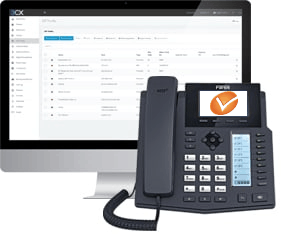 The Vantage Telephone System enables you to make calls on a telephone handset in the office, from a PC or from an app on your mobile. Calls can be transferred to your telephone extension, but that extension can be anywhere in the world! Because this is the world of unified communications.

Don't delay – save money on your telecoms now! ⇒

Great Benefits with the Vantage VoIP Telephone System
The whole system is seamless and reliable. Moving to the Vantage telephone system will provide you with the following benefits:
Cheaper telephone usage
Dependable technology
Inclusive minutes
Connect using many different devices
Reduced running costs
Great flexibility
Keep your current telephone numbers
A truly professional solution

With our hosted telephone system, you don't even have the worry of maintaining your own in-house system. Vantage does all that for you and therefore, all you need are the telephone handsets or apps on your PCs and mobile phones. You will have access to a large array of handsets to suit many applications, from simple desk phones to executive handsets and even door control units.


Voice over Internet Protocol (known as VoIP) is a method of using internet lines for voice calls. When compared to traditional landlines, line costs are slashed and call charges reduced.

Due to this being the world of unified communications, the Vantage Telephone System enables you to enjoy:
Web conferencing
Chat with website visitors
Integrate with CRM systems
Utilise call recording

As a result of all these features, the telephone system helps to improve collaboration and productivity amongst your colleagues and therefore enhance your customer's experience.

Any business changing telephone provider wants to know they can keep their current numbers. We can do this for you! Number porting is therefore quick and easy to our telephone system.

So, recycle those old telephones and let Vantage IT provide you with the telephone system to take your business forward.

For a flexible, functional and affordable telephone system, please contact Vantage.