If you're planning an office relocation in 2023, then you'll need to consider what steps to take in order to safely and securely move your IT equipment to your new location. This is vital so that your productivity and data are not affected. It's all too easy for things to go wrong with technology, especially when it comes to transporting your equipment from place to place. Read on for our IT office relocation tips and tricks.
1. Communications Are Vital
Before any contracts are signed for the new office, find out what internet connections are available.  A fast, reliable internet is vital for any business and it is surprising how often busy, commercial locations are let down by poor internet.
2. Survey Your Equipment
The first thing that you need to do is to survey your current equipment. Moving office locations is a good opportunity to update your IT, so you should look at what you currently have and assess whether new equipment is needed. There's no point in packing up and transporting devices that you no longer need, so make the time to wipe them and dispose of them safely. This also means you can arrange for any new equipment to be sent and set up at your new office efficiently.
3. Survey Your Team And The New Office
Find out what team members expect from the new office. Plan seating arrangements (and be prepared for alterations) to make the best use of the available space.
Visit the new office to discover whether network cabling is already in place. Installing cabling to the correct locations for the proposed desk locations needs to be carried out before the office move.  Don't forget additional network points for telephone handsets and printers. You may need a suitable space for servers and network equipment to be located, with air-conditioning.
4. Backup Your Data
Transporting your IT equipment always comes with risks, so to mitigate any potential problems, ensure your data has been backed up in advance. No matter how careful you are, accidents can happen and it's not worth skipping this step, as it could cost you more in the long run.
5. Use IT Support Services
There is plenty of help available when it comes to relocating, including IT office relocation services. If you are planning a move, make things easier for yourself by considering IT support services that can take care of everything for you. With professional IT services such as Vantage IT, you can be assured that the entire relocation process, including the removal and installation of your IT equipment, will be handled smoothly.
Who Can Help?
For help when it comes to your office IT relocation, the best place to start is Vantage IT. We provide a range of IT support solutions for businesses, including ongoing IT support during a relocation. Simply contact our experienced team for more advice and support regarding your move.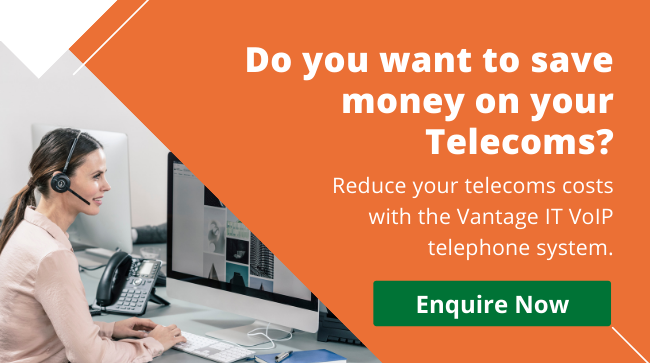 Image Source: Canva