In order to keep up with the competition, every business needs to incorporate technological elements into its operations, but to make sure everything is running efficiently, you may need help with the IT side of your company. 
If you are looking for an IT support company in Buckinghamshire, Vantage IT is perfect for you. Vantage IT offers IT support service packages to suit any need, so read on to find out more about how you could benefit. 
What Does Vantage IT Do?
If you are looking for IT support in Buckinghamshire, Vantage IT can help. We can manage all aspects of the IT resources that your Buckinghamshire-based business has, including hardware, software, infrastructure, communications, licenses, and asset management, to help you grow and benefit from your IT systems seamlessly. 
Vantage IT can also assist in managing cyber security threats for your Buckinghamshire business by implementing several features such as anti-malware software, firewalls, and spam prevention services to keep your IT secure. 
What Packages Does Vantage IT Offer?
There are two main packages of IT support for Buckinghamshire businesses that you can benefit from when you choose to work with Vantage IT. Each option has its own list of features that will suit your business requirements:
A Complete IT Solution:

This enables us to be your own outsourced IT department with quick and proactive services and rapid response times.

Pay-As-You-Go IT support:

This means we'll be on hand to quickly respond to requests to get your systems running smoothly. 
For more information on which option is best for you, make sure to get in touch with our experienced team. 
Benefits Offered By Vantage IT:
The Team
You need an experienced team that will understand your requirements and that is what you will receive if you work with Vantage IT. Knowledgeable, honest advice and support will save you time and money.
Local Support
Being a Buckinghamshire-based business means we can provide a local, personal service to your company. Most support is provided remotely, but there are times when only a visit will do.
Technology Solutions To Suit Your Business
In addition to the IT support we provide, Vantage IT also delivers IT security solutions, VoIP, cloud backup and disaster recovery, plus IT infrastructure services.
Learn More Today
Vantage IT is always on-hand to provide a variety of IT solutions and we offer support for businesses around the Buckinghamshire area to meet your requirements. If you feel you could benefit from any of this support, make sure you get in touch with us at Vantage IT so that our friendly team can get started with helping you as soon as possible.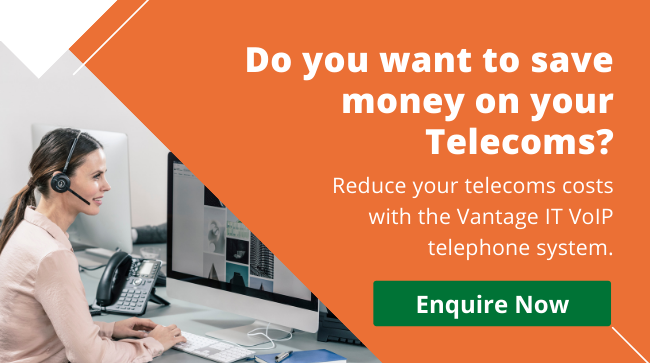 Image Source: Canva