We all know schools don't have spare cash, but with advancements in technology constantly improving, there can actually be a financial benefit to setting aside some of the budgets to invest in effective IT services. To find out more about how IT support services for schools can help staff and students while ensuring schools save money, read on.
Expert Advice Can Save Thousands Of Pounds
Using the wrong hardware and software will cost your school far too much money. An experienced IT support provider will deliver the skills and knowledge you need to ensure your school is implementing the most appropriate product for your requirements.
As school budgets become increasingly tight, it is vital that resources are focused in exactly the right place. Some IT equipment will cost thousands of pounds and if it is not spent wisely, you risk wasting money.
Specific Applications
Another way that IT systems can help your school save money is through specific applications, whether that's reporting, monitoring, or communication software. 
Having a complete tech infrastructure will enable students and staff to access school resources on their devices no matter where they are on campus, and even at home, meaning productivity and learning can continue outside of the classroom walls. This can help you to cut down on additional costs surprisingly quickly.
Encourage VoIP Solutions 
Communication is vital in schools, but a lot of this takes place via landline phones, which can be costly to install, run, and maintain. However, you can easily reduce these costs by integrating VoIP solutions, which require very little hardware management and much less maintenance overall. What's more, you only pay for what you use, helping to reduce both your upfront and ongoing costs.  
Who Can Help? 
To implement these strategies, it pays to have expert help. This is where we come in at Vantage IT. We are on hand to provide IT support for schools and will be happy to make some recommendations. If you have any questions or want our help to reduce the costs for your school, make sure to contact us today.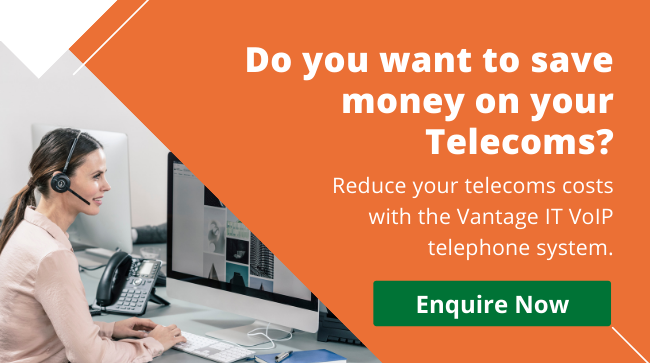 Image Source: Canva